The Carriers, A Lineage of Fiction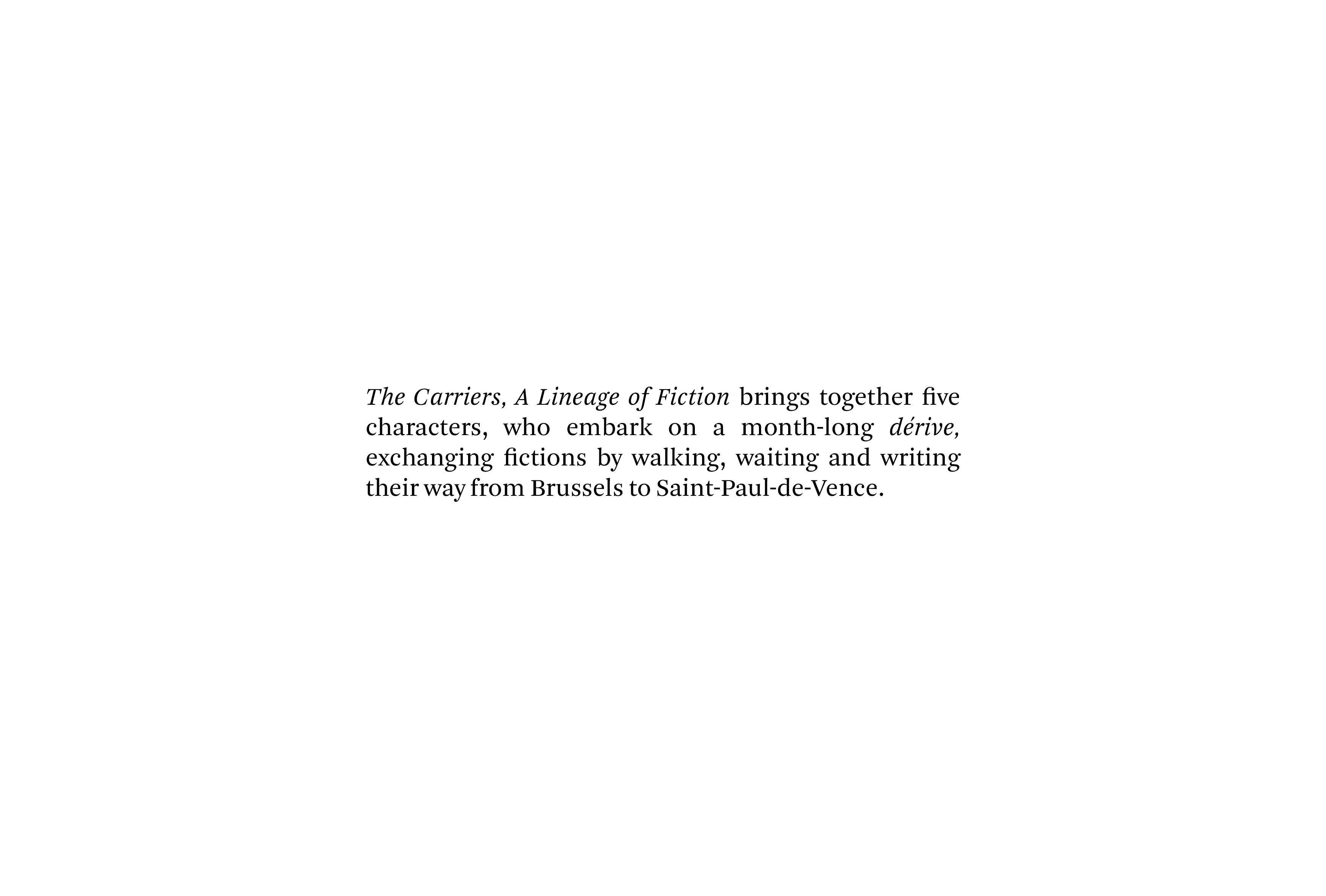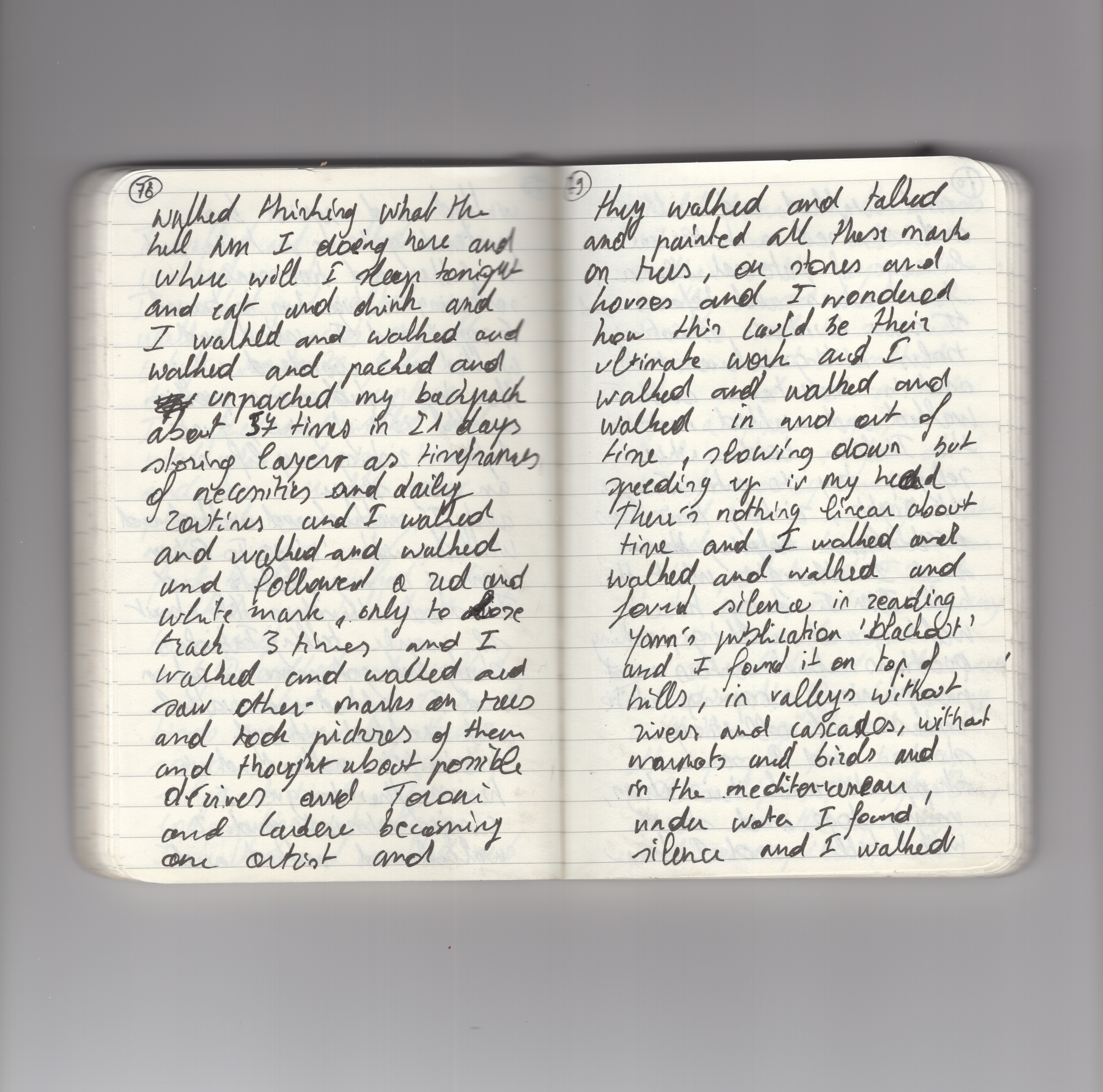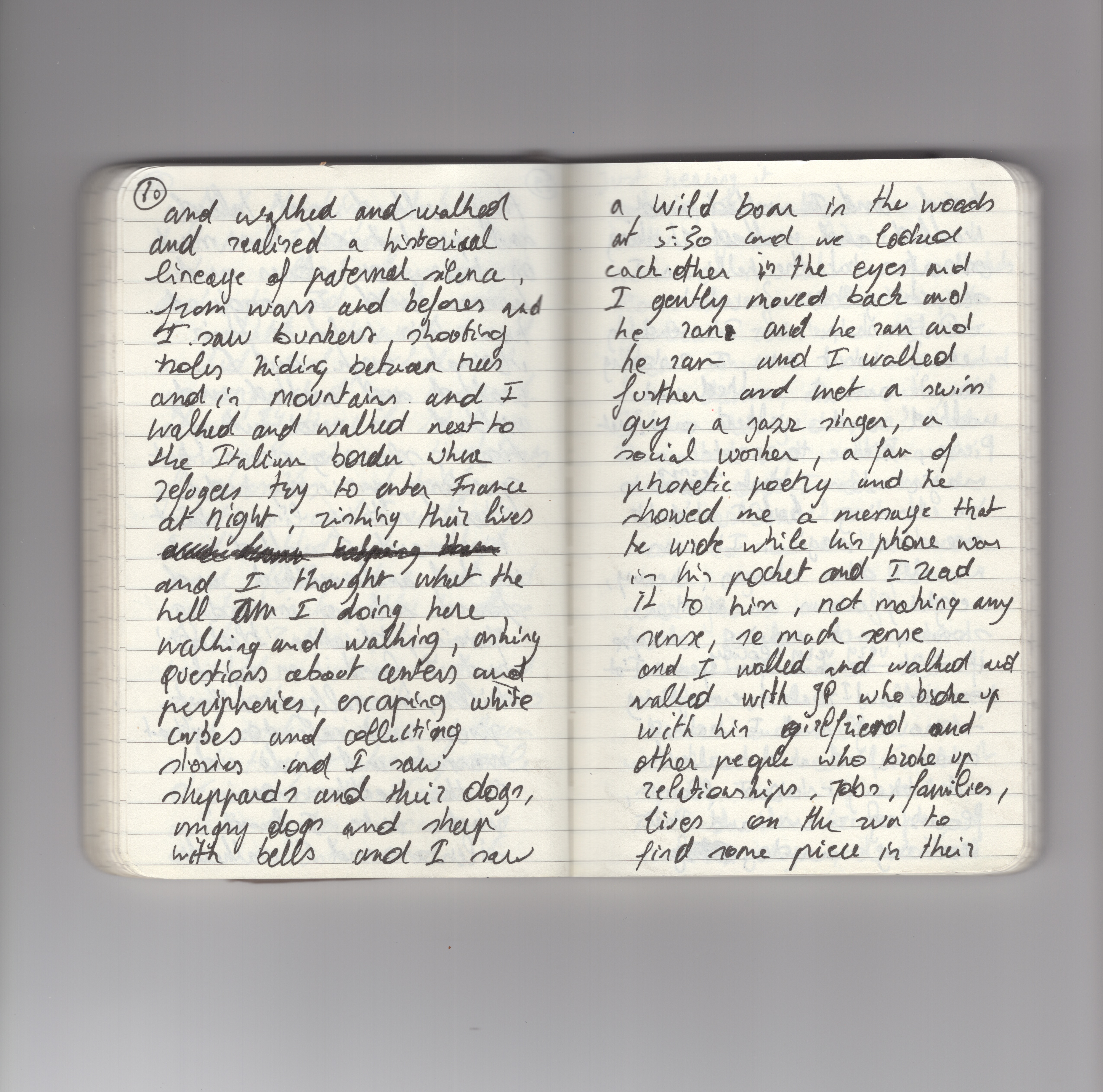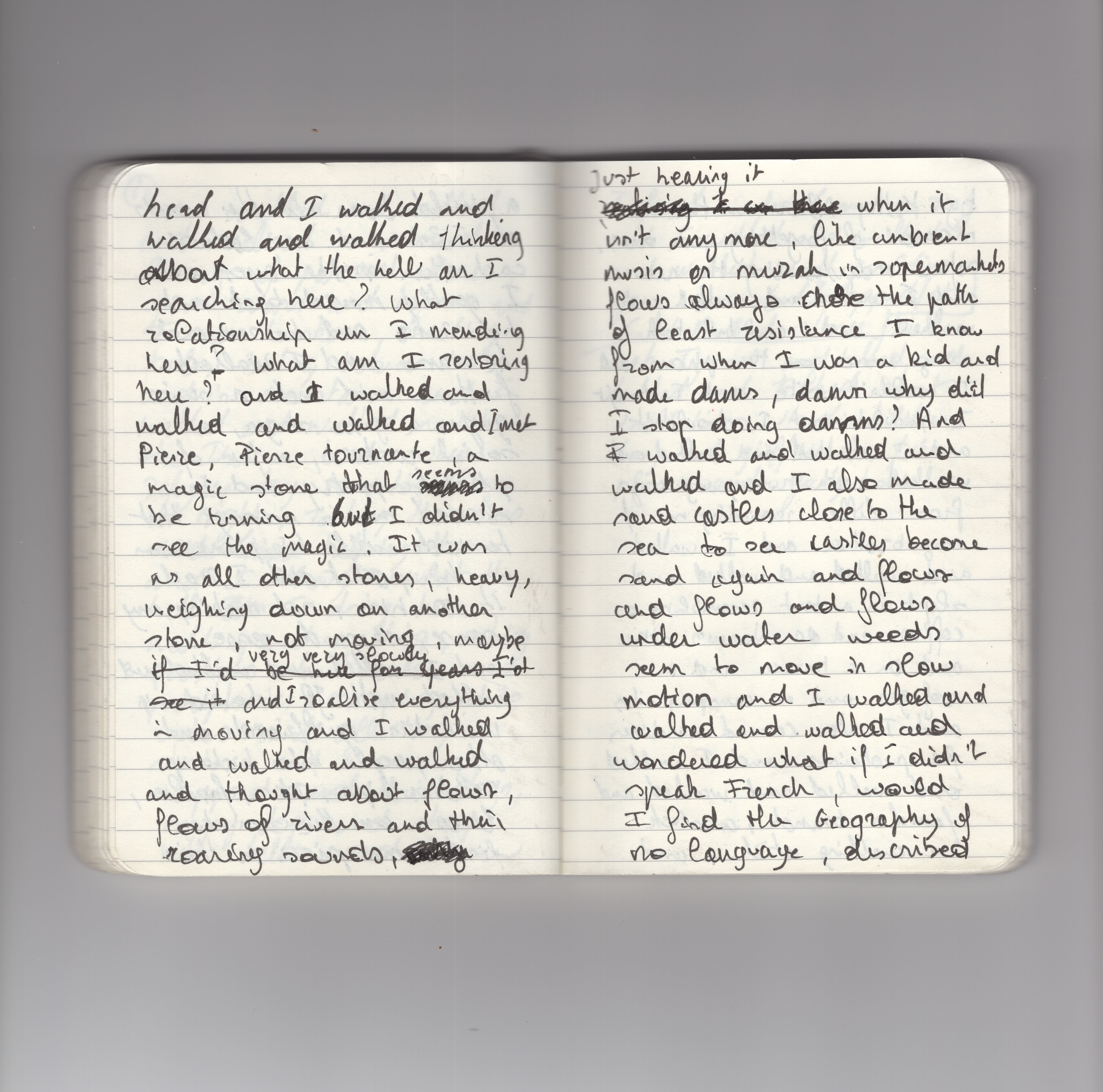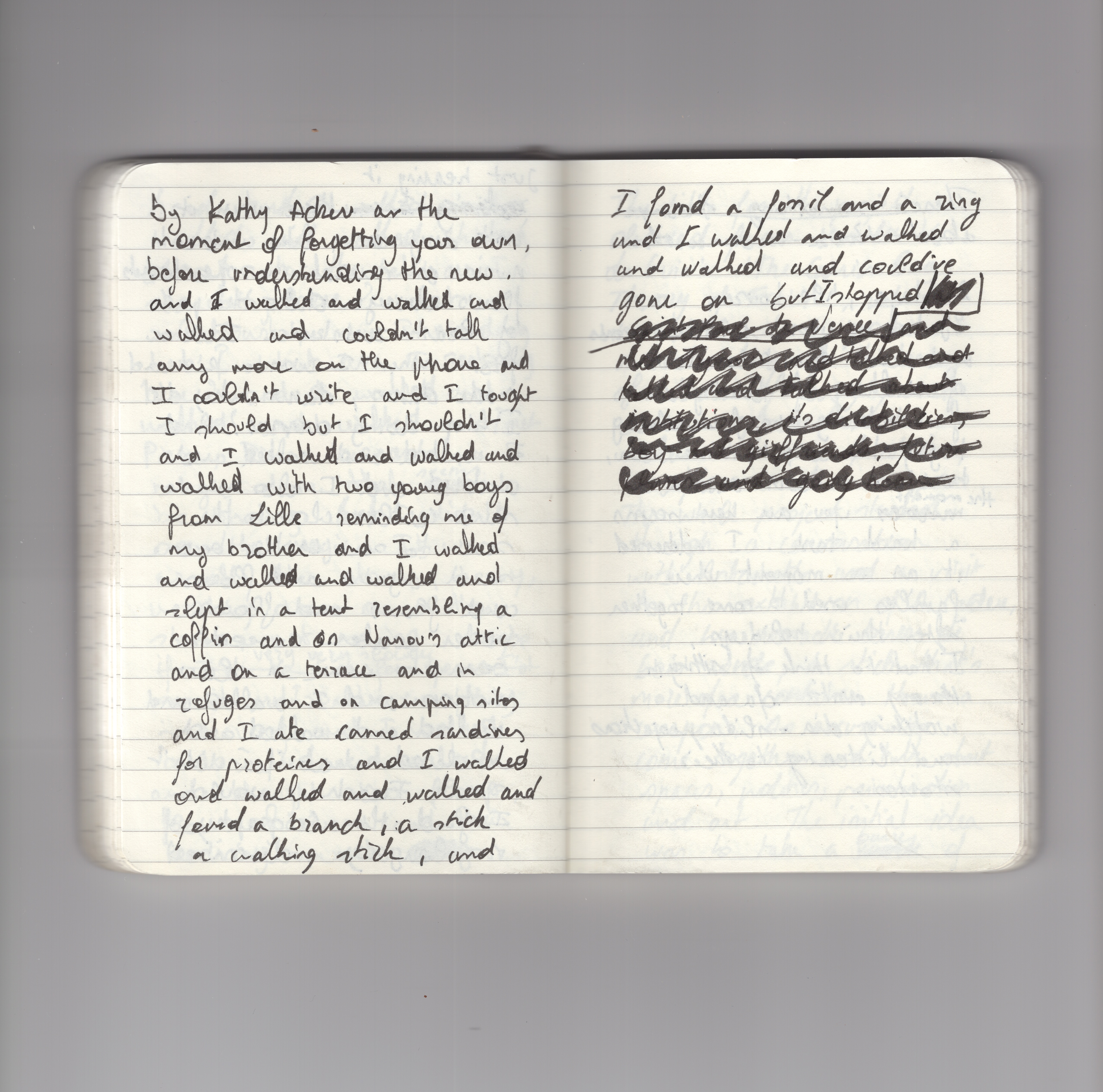 There are two dots on a map: one reads Fondation CAB, the other FONDATION CAB. They are connected by a blue line. A black figure, depicted to be walking, tells me the blue line stretches over 995 kilometers and 206 hours of non-stop walking.

On the 13th of April 2023 there was a discussion in Turin between Antoinette and myself. We wondered about walking the margin between two (art) centers, physically connecting the two dots on the map. Ques- tions arose concerning (dis)location, framing time, ownership and artist's agencies within an institutional framework.

On the 22nd of April 2023 there was a conversation in the exhibition Worldlines between Fabiola and me. Fabiola pressed a casted bronze blackberry between her hand and mine, while telling the story of how the fruit was imported to create "natural" barriers in her motherland Chile. When our hands parted, it left a small impression of the fruit as a trace of herstory. Ways to Return Home, the title of the piece, will be brought along the walk.

On the 24th of April 2023 there was a phone call between Céline and myself. I proposed her to inhabit the studio of Fondation CAB in Brussels and to become one of the carriers of the project, leaving traces of the walk in the studio and vice versa. In storytelling this would be termed as a body swap.

On the 22nd of May 2023 I offered a handmade notebook to Antoinette, based on a series of almost empty notebooks found at Jeu de Balles. The notebook will be used to speculate (the absence of) a journey through writing.

On the 1st of June 2023 we will embark on a month-long dérive, exchanging fictions by walking, waiting and writing our way from Brussels to Saint-Paul-de-Vence.

Antoinette Jattiot (b. 1989, France) is a Brussels-based author and curator. Particular interests include the issues of still and mo- ving images, language, memory, conceptual and collaborative methodologies at the crossroads of art and research. She is current- ly public programmes curator at La Loge (Brussels), and a member of Petticoat Government, the collective (Denicolai & Provoost · Antoinette Jattiot • Nord · Speculoos) that will represent Belgium at the 60th Venice Biennale (2024).

Céline Mathieu (b. 1989, Belgium) is an artist and writer whose work plays on the malleability of understanding, using linguistic and bodily sensibilities. Her site and condition-specific practice considers material and economic circulation in work that evokes a feeling of falling away.

Fabiola Burgos Labra (b. 1984, Chile) is an artist who works with weaving, sculpture, installation and more recently the activation of these pieces in different contexts. Currently she is a laureate candidate at HISK (Higher Institute for Fine Arts), in Brussels. In Chile, Mexico and New York she has organized and produced several interventions in the public space, focusing mostly in markets and the landscape.